Yo homies! After finishing my own personal quilt, I fixed my nephews quilt. New twin size batting,
Quilters Dream Orient
, was the first thing purchased. This batting is probably one of the softest things I have ever felt. Kind of felt funny covering it with a quilt top it was that soft! After having a not so great experience with batting spray, the quilt was pinned. For a backing, I decided on a light blue with a faint pattern and a bright yellow, both matching the colors on the quilt top. I tied it with yellow, orange, blue, white, and green embroidery floss to match the colors again. The binding was the same satin green binding I'd used before. I also tied the quilt and taught my niece how to do it. It's really kind of fun and easy to do.
So what's my next project? It was going to be a pyramid quilt or something similar to it. I purchased an equilateral triangle ruler from my local quilt shop and a shitton of fabric from Marden's. I couldn't decide between half a yard and a full yard so it ended up being 3/4 yards of each fabric. My inspiration is from this found on Pinterest:
Here's the fabric I chose for this project:
Another project I'm planning is something I haven't done before: choosing one block pattern to make a giant, flowing piece. After searching for days I decided upon a quilt block pattern from
Quilter's Cache
called Star in Chain.
Star in Chain
is a medium difficulty 16" block. Here's the block and an example of a quilt: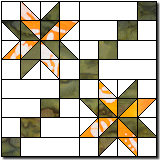 Quilter's Cache (c)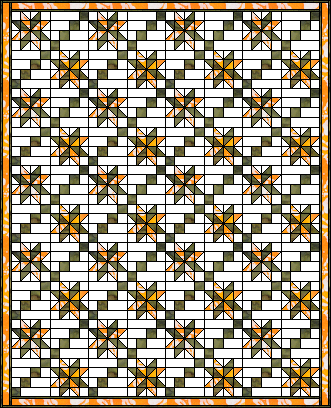 Quilter's Cache (c)
My plan is to use blue and yellows for the stars. The green fabric will be used for the diagonals, creating a gradient flow. Using Quilter's Cache's super easy to follow
guide
on calculating yardages, I discovered that my stash is deficit 5 yards of white fabric. Hah! Oh well. That's what happens when you buy fabric and then choose the pattern, my bad habit. Another ride to the fabric store! Alas, before that trip I will start it to see how it looks.
Thanks for stopping by!
Quilt on quilters!!
Beatrice